Foster Feature Program
The Foster Feature Program is designed to help shelter dogs find their forever homes through partnerships with local animal shelters and rescue organizations. We identify dogs who have been in rescue the longest, with little to no applications and feature them on our website and socials, along with profiles and photos. This helps potential adopters find a suitable match for their home and lifestyle, and gives the dogs a chance to find their perfect family. We believe every dog deserves a forever home and with our commitment to our Foster Feature Program it's making a meaningful impact on the lives of many shelter and rescue dogs.

In addition to featuring foster dogs on our website, we go the extra mile to partner with other dog-related businesses to create a goodie bag filled with treats, toys, and other essentials for the foster dog to take home upon adoption. This provides a warm welcome for the new pet parent and their furry friend.
Tashi's Story
F | Lab X Golden | 3Y | Medium Size | Spayed | UTD on shots | Housebroken | Active | Shy & Sweet | Requires a Doggy Sibling
Tashi, once quite apprehensive from her days in a barn, she's now embraced the life of a cherished pet. She's discovered the absolute joy of couches and beds, relishing in every moment.
Tashi has found comfort and confidence in the company of her foster dog companions, often looking to them for guidance in uncertain situations. While she may be a bit timid around boisterous, barky dogs, she warms up with space and time to interact on her terms.
This affectionate girl thrives on love and attention, readily seeking pets and kisses. She's a true sweetheart who has never shown a hint of aggression. Tashi adores human affection but respects personal space when needed.
Tashi's ideal home includes a friendly and calm canine companion who can share the spotlight with her, as she's a velcro dog that loves her people. This charming girl not only enjoys cuddles but also craves outdoor adventures, making her an excellent partner for hikes and exploration.
In the home, Tashi thrives on routines, including snuggling in bed and early morning sniffy walks. She's generally curious when meeting dogs during walks and tends to be a bit cautious around high-energy or loud pups. However, she remains quite well-behaved in these encounters.
Tashi's affection extends to people, and she loves making new human friends once she's comfortable. Her adaptability shines as she's excellent with men, women, and children, even enjoying the company of youngsters. When it comes to cats, she's met a dog-savvy feline and was interested in play, so a cat sibling in her forever home would need to be equally savvy.
Tashi has made incredible strides in her foster journey, from embracing toys and new experiences to being a loving snuggle expert. Now, she's eagerly awaiting the perfect forever home where she can continue her journey of growth and love.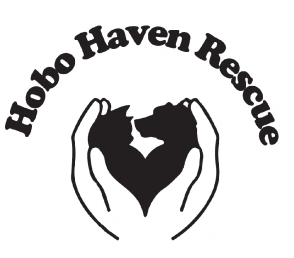 Hobo Haven Rescue
Hobo Haven Rescue, located in St. Jacobs, ON, was established in 2003 with a steadfast commitment to its motto, "No dog left behind." Their unwavering dedication is evident in their mission to assist dogs from all walks of life across Canada, regardless of breed or age.
Despite being a small volunteer team, their impact is mighty. They go above and beyond to offer a secure haven for these animals, providing the essential veterinary care, rehabilitation, and training needed for a fresh start. Every dog under their care is placed in nurturing foster homes, surrounded by love, training, and the comforts of a home environment while awaiting adoption.
United by a shared love for animals, their collective drive stems from witnessing the transformative power of their efforts, making a positive impact one furry friend at a time.
Website
Sponsors of the Month
Jenn Wilson Pet Portraiture

Donated her time and skills to get amazing photos of our featured dog.

Website

Spoil the Dog Bakery

Donating a bag of their classic wheat-free biscuits Variety Packs. It has four delicious flavors of biscuits.

Website

Two Spent Grains - Brew'ed Biscuits

Donating a bag of their plant based all-natural vegetarian dog treats. They are tasty and beneficial, catering to gut health along with other aspects of diet.

Website

HMPortraits

Donating a beautiful, custom, digital portrait of the featured dog of the month. Will be printed as a 8X10 photo.

Website

Staff Donation

One of our talented staff members will be donating a handcrafted, personalized dog tag.

Pawsitive Solutions

We will be donating a 6-pack of our compostable poop bags.
Rescue Nomination
Do you know of a rescue that would benefit from our program? Or a specific dog? Are you a pet related business and want to partner with us?

Please reach out to us at sales@pawsitivesco.com with your contact information and we would be happy to reach out and discuss a partnership!
Past Featured Dogs
Aqua - ADOPTED!

F | Lab X | 5Y | 40 LBS | Spayed | Good With Kids | Good With Dogs | Housebroken | Medium Energy | Crate Trained | Certified Lover Girl | Smart Cookie

Full Circle Rescue

Grin - ADOPTED!

M | Puggle | 10Y | 11.5 KG | Neutered | UTD on shots | Microchipped | Housebroken | Low Energy | Crate Trained | Independent Couch Potato

Canine Haven Rescue

Nikki - ADOPTED!

F | Bully Mix | 3Y | 21.25 KG | Spayed | UTD on shots | Kid Tested | Only pet | Housebroken | Medium Energy | Obedience Trained | Crate Trained | Sweetest Cuddle Bear

Bark at the Moon